Hello friends of the shop and interested parties!
This week's BOOZELETTER:beer arriving this week
a -z continues with U for UNFILTERED  (bits in. somewhat like this gloopy lava lamp gif)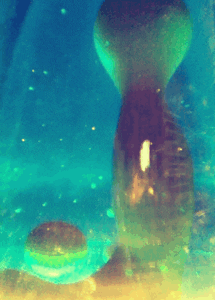 Plus our regular cocktail tales of cocktails...  this week: Orange, Poppyseed and Coffee Cake Cocktail!
please read on...
<<<<<PRESSURE DROP>>>>>
Four new 440's!!!!
SARATOGA SPRINGS DDH Pale Ale 5,8%
FASHION London Porter 6,5%
ORLA Blackberry, Rosehip & Thyme Sour 3,8%
THE GRADIENTS Vic Secret & Amarillo DDH Pale 5,6%
Dessert In A Can!
New tasty Amundsen cans...
Cookies and Cream 10,5%
Neapolitan Ice Cream 10,5%
WILD BEER 750ML
CURRANT AFFAIR Blackcurrant Sour Ale 5,2%
////WIPER AND TRUE IN CANS!\\\\
Gonna be great to have Wiper & Trues new can range in later this week!
We'll have their IPA, Pale Ale, Small Beer (at 2,7%), Quintet IPA, Milk Stout and even a Plum Pudding Porter...
////////NORTH\\\\\\\\\
A couple of cans arriving from the North...
SOUR SORBET with NORTHERN BLOC Sour 4,1%
TRIPLE FRUITED GOSE with LERVIG Lingonberry and Blueberry Sour 4,5%
6 DEGREES NORTH
INHALE Berliner Weisse 6% with SALT
QUAD Quadruple IPA 11% with ALVINNE
MORE CLOUDWATER...
Deep Dive Human Pale Ale 5,5%
Is There Room in the Budget for a Sports Car? Pale Ale 4,6% with SALT
OTHER 440S...
NORTHERN MONK with OLD CHIMNEYS and WANDER BEYOND Dark & Wild City Stout 7,4%
YEASTIE BOYS Cosmic Liquid Kiss IPA 7%
And many many more to come... full run-down on Thursday via usual social channels - Instagram Facebook Twitter #newbeerthursday
\\\U is for UNFILTERED///
Unfiltered, eh? We see it more and more, and it is a continuing conversation within the booze industry. When you make any fermented product there will be leavings, particulate grape or malt matter, dead yeast cells & microbial bacteria (ie GLOOP, CLOUD, BITS BABY Ed). These can affect the flavour (for better or worse), can affect the appearance, cause secondary fermentations post-bottling, or have no effect at all.
Filtering or fining removes this solid matter and, depending upon degree and technique, can leave you with a perfectly clear finished product. To an extent, this is what the market has come to expect. However, it isn't always necessary and proponents of unfiltered styles vehemently argue that it takes away from the true character of the product.
In the immortal words of Mary Gorman-McAdams, MW: "Rather than read 'unfiltered' as a sign of higher quality I see it more as a sign of the winemaker's philosophy."
As we may have banged on about before, we were shortlisted this year for Decanter's Organic and Biodynamic wine specialist. As such we have a lot of exceptional unfiltered bottles on our heaving shelves - if you're farming organically or biodynamically you're probably of the 'minimal intervention' approach  - not adding anything or taking anything away from the wines.
From the left above: Astro Bunny! You've gotta get this on the name alone! Aussie Zibibbo, Nero D'Avola and Vermentino playful orange Pet-Nat full of peaches and cream with a persistent mousse, tropical notes, and indulgently dry drinking. Gorgeous!Frederick Stevensons Dry Red! Mourvedre, Cinsault, Syrah, Grenache this is much lighter than your average Barossa red with bright acidic fruits, fresh green herbs, aromatic spices and a long minerality to the finish. Intricate!Koppitsch Homok! Austrian Gruner Veltliner, Sauvignon Blanc, Weissburgunder each fermented in a different way combine to offer a beautifully fresh terroir orientated wine with honey, freshly shaved wood and perfect balance.
 And it's not just the wines!
A lot of new beers from the ongoing craft explosion choose to leave their products unfiltered. Below we've got two staples on our shelves from Overtone and Cloudwater alongside new Portuguese brewery Musa and a modern German Brauhaus "And Union" (you know they've got to be good to compete with the 500-year-old Bavarian breweries!). Sitting pretty in centre stage is a classic Gueuze from Lindemans and, it being International Apple Day last Sunday, we've got a bright wee unfiltered English cider from Ross on Wye.
And even though it doesn't begin with a 'U' we can't move on without a brief mention of Non-Chill Filtered Whiskys. Chill Filtration of whisky is when you chill the product right down to 0 degrees Celsius (for malts, -4C for blends) and pass it through a series of metal screens and/or paper filters. This removes a number of fatty acids, esters and proteins, leaving you with a perfectly clear product that does not go cloudy in the presence of water or ice. This is a purely cosmetic process, and some would argue, inconclusively, that it does detract from the flavour of the whisky. Below we've got four awesome Non-Chill Filtered whiskies: Kilchoman 100% Islay 9th Edition: made entirely from products of the island this whisky shows gentle fruit, caramel, spiced milk chocolate and gentle peat smoke. Luxury in a glass!Longrow 21yr: 60% Sherry and 40% bourbon casks finish this well-aged malt to give sweet peat, dried apricots, warming driftwood bonfire smoke, very intense but perfectly balanced with a woody finish. A sign of maturity.Old Particular Glenturret 12yr 2006: a full 12 years in Sherry Hoghead for this wonder, and you can tell from the colour alone. Treacle tart, blackberries and hints of old oak give way to spicy cinnamon and cloves with a final return to sweet blackberries and rich chocolate. Absolutely stunning! And only 389 bottles produced! North Star Invergordon 31yr: distilled in 1987, released at cask strength of 63.2% and only 190 bottles produced this really is something special. A nose of white chocolate buttons and Airfix glue with a palate of buttery pastry and tangy, sweet sherbert finishing with a bit of gingerbread. Amazing!
\\\TALES of COCKTAILS///
Orange, Poppyseed and Coffee Cake Cocktail!
45ml Devils Point Coffee Liqueur 15ml Briottet Liqueur de Coquelicot 15ml Cointreau 15ml Fresh Lemon Juice (Unfiltered) Nasturtium Flowers to garnish
Nothing fancy this week, folks, just an absolutely awesome libation for you. We're looking at Devils Point Rum range again as it is banging and also unfiltered with indigenous
yeasts for the initial fermentation. Yum! And no filtering on the lemon juice either (I did, honestly, see a cocktail blogger recommending filtering your citrus. #filteryourcitrus).
This is a sweeter cocktail and not too booze heavy. Perhaps paired with dessert or as a simple post-prandial. The flavours marry to emulate a luscious cake and that silky smooth mouthfeel just brings it all to the peak of luxury.
So, everything into a Boston shaker with loads of good ice, hard shake, double strain, just the usual. The Nasturtium Flower Garnish (which can be bought from our pals next door in Roots & Fruits, keeps well, and is perfectly food-safe) will float beautifully on the dark viscosity of the drink. Enjoy! And see you next week for more Tales of Cocktails.
Let's have another bit of hypnotic gloop here.
*DO NOT TRY TO DRINK LAVA LAMPS.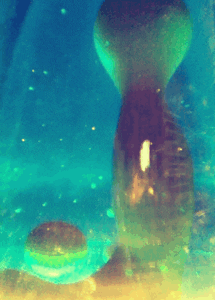 GOODBYE! SEE YOU IN THE SHOP!