you're looking great. How are you? Us? Yeah, we're ok, got a prize for being ONE OF THE 50 BEST INDEPENDENT OFFIES IN THE UK so that was cool....
This week we have renamed this newsletter the (wait for it) BOOZELETTER. Yes, that came to me in a flash this morning. 
🍻NEW BEER🍻 is coming in - see below...  A-Z continues with PPPPPPPPP for PPPPPortugal - see below...
Plus our regular cocktail tales of cocktails...  this week with ⚡MAGIC GIN⚡! - look at that GIF below! 
please read on...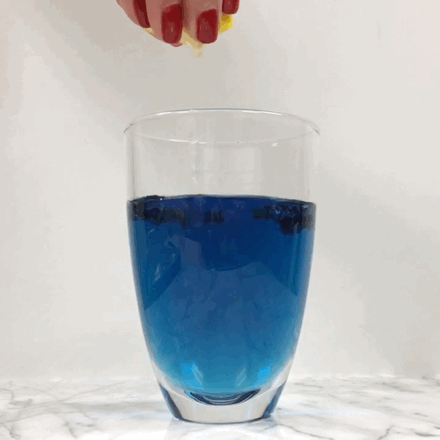 PURPLE-PORTUGUESE-MAGICAL-COLOUR-CHANGING 'SHARISH' GIN !!!! everything coming together here, it's almost like we'd planned it.
See the Tales of Cocktails👇 for a yummy recipe.
\\\ NEW NEW NEW......BEERS!!! ///
Another week, another ton of beer arrives! Starting with some big bottles of a Cider Apple Saison from Burning Sky!
///////////NEW NORTH BREWING 440'S\\\\\\\\\\\\\
Two new beers from North...
Sea of Tranquility IPA 6,2%
Collaboration with Refold & Plaey Ute IPA 7%
Here's what you need to know, Cloudwater have produced yet another beer...
Here's What You Need To Know Belgian Bitter 6%
B U X T O N
Lovely wee can from one of our favourite breweries for you sour lovers!
FAR SKYLINE Dry-Hopped Berliner Weisse 4,9%
PRESSURE DROP
LUCKY
Now you all know what a NEIPA is from week 'N'... here's a new Simcoe DDH 6,8%
>NEW BOUNDARY!<
DOUBLE NEGATIVE
Pale Ale 3,8%
\\\ P is for PORTUGAL /// As luck would have it there's a tonne of wonderful Portuguese stuff already on the shelves. But what's the HISTORY here, I hear you cry - and while we're at it, what are those different REGIONS all about? 
As luck would also have it last week Roving Goat and buck-stopper Phoebe spent last week eating and drinking in Portugal. Read further on for her *unique insight* into eating and drinking and HARVEST in Portugal...
The history of winemaking in Portugal goes back almost 4000 years and has the seafaring (Greek) Tartessians at the root of it, with Phoenicians and Romans expanding plantations Northwards. Portugal, being a seafaring nation has a great history of fortifying - keeping the wine 'unspoiled' with the addition of brandy for the hot bumpy rides crossing seas - see Madeira and Port. The fortified wine became the main export of Portugal, whilst table wines were reserved for local consumption.  Portugal, isolated from the rest of European wine production, kept its indigenous grapes - more than 300 of them, which is both amazing and confusing. Mateus entered the scene in the 60s, showing that there was more to Portuguese wine than the fortifieds. When Portugal joined the EU in 1986 (*sigh*) the quality and export of table wines soared. Massive EU investment was given to improve vineyards and wineries, and they started to export The Good Stuff. Fast forward to 2019 and our bulging shelves of delicious, classy, esoteric, traditional, terroir-driven wines all the way up here in the frozen North.  
Although wine is produced throughout Portugal, the 'big regions' are the magical dreamy slopes of Duoro (akin to Bordeaux for elegant, complex reds), the gentle, teeming abundance of the Dao (think chunky Burgundies) and the clear, clean, mineral zesty whites of Minho - aka Vinho Verde (not the green wine but the wine of the green place). 
"*Unique insight into Portugal*, not just another wine jolly" 
"Turns out summer isn't over in Portugal and harvest is in full swing. Glorious blue skies greeted me in Porto and we were off to our first tasting - with those lovely lot at Quinta de Raza, home of our SUPER TASTY Raza Vinho Verde (which we're now going to try to start leaving the 'e' off when saying it out loud). The winemaker looked like George Clooney and forced us to taste through lots of expressions from their amazing vineyards, including a Trajadura Albarino blend which was starry starry starry. Mega salt-cod lunch later we bounced through their sandy, granity vineyard passing a cork tree and George cut me off a bit of cork for my collection of wine-related trophies.  A night in Porto (which is great by the way, you should go) and an early start to get us over the river to Vila Nova de Gaia where the Port warehouses are to try our hand at blending white port which I was very bad at, although I did get a sticker for technique. The head blender was the next in line of 5 generations at Niepoort - it was amazing to think he was trying to recreate the taste that his father and grandfather and great grandfather (etc) had been trying to create 🤯. 
And then up to the magnificent Duoro Valley - one of the most incredible bits of wine country in the world - swooping majestic rows of vines down to the Duoro below. (You don't want to see a picture of that though, right, you want to see the inside of a winery with some people knee-deep in grapes ☝.) Up into the hills, we went to the traditional granite lagares where we trod some grapes which I was, again, pretty bad at. It was hard work and the juice was rich. The pips floated to the surface and there was a thick layer of pulped skins beneath our feet. Harvest is exciting, usually, when you visit a vineyard there's not much happening but Niepoort was full of energy and activity. Bloody trails of Touriga Nacional flowed everywhere 🍷🍷.  
Next an exploration of Niepoort's main winery for table wine rather than port, an astonishing, overflowing warehouse of wacky barrels, fouders, amphora and eccentricity 🤪. Dirk Niepoort has pushed the boundaries of contemporary winemaking in Portugal and there will be a lot more Niepoort on the shelves in the coming months. The team was so tight-knit and supportive and their love and respect of Dirk and WINE were palpable. Their principles are everything we love about wine in Valhalla's - respect for the past but looking to new ways and expressions of terroir, whilst maintaining respect for their soil and for the planet. And making really amazing and creative wines. With a sense of humour. Look, here's me with a big face and a big amphora behind me 👇. Read more about Niepoort here https://www.niepoort-vinhos.com/en/
\\\TALES of COCKTAILS///
The Portuguese Purple Potion
45ml Sharish Gin 15ml Cointreau 10ml Simple Syrup* 15ml Fresh Lemon Juice (kept separate for pouring at service)
Here we have a lovely little number that tastes great and looks even better 🍸🍸🍸 . Definitely a dinner party piece with the drink changing colour in front of your very eyes! Like, seriously, dude!
The blue pea flower which has been infused into Sharish Gin (along with a host of other lovely botanicals) is an all-natural pigment which changes from pink to purple when in contact with acids. In this case, we will be using the citric acid in fresh lemon juice to induce the magic. You may recognise this cocktail spec (posh for recipe proportions) as it is essentially The White Lady minus egg whites, but hey, you can't go wrong with the classics.
So, get all your ingredients, except the lemon juice, into a Boston shaker with loads of ice, hard shake and double strain into a coupe glass (old school champagne glass that is said to have been molded on Marie Antoinette's breasts, FYI). At this stage, be sure your audience is appreciating your efforts (even if it's only your good self), pour in the lemon juice and watch the magic happen. 💙 Awesome!!!
*Simple Syrup is a one to one sugar syrup. Dissolve 100g of sugar in 100ml of water and you've got it. Easy and very useful. Scale proportions as appropriate.
PS We've got the Sharish Gin in miniatures in the shop if you don't want a whole bottle   :D
Phew. What a boozeletter! 
Ha ha, boozeletter. 


GOODBYE! SEE YOU IN THE SHOP!